An energizing and holistic approach
Not only does acupuncture take into account the symptom, it also looks for the initial cause of the imbalance in order to treat the root cause of the problem.
The vital energy, Qi (pronounced tchi), circulates in the body through a network of channels called meridians. If the energy is circulating freely, the body is in harmony and the individual experiences an optimal feeling of well-being.
If energy circulation is blocked (due to stress, poor nutrition, fatigue, etc.), various physical and psychic symptoms of illness appear.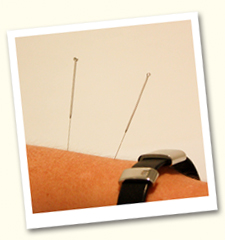 Using very fine needles, acupuncture treatments stimulate precise points on the meridians to bring back the free flow of energy and revitalize the body. Acupuncture awakens the body's ability for self-healing.
The patient barely feels the needles being inserted and the whole process is generally pain-free. There is a brief stinging sensation that precedes a feeling of overall well-being. Acupuncture has a sedative effect, which encourages the patient to relax during the treatment. Please note that the needles are like filaments, sterile and for one-time use.
For more information on acupuncture, visit the website of the AFCI at Acupuncture Foundation of Canada Institute.